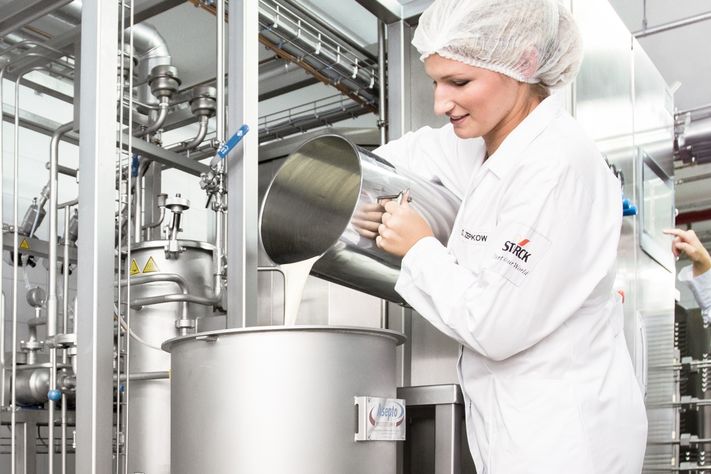 Product development
CONDETTA sees itself as your competent partner and is on hand to provide you with inspiration for new product ideas.
The food product industry is under enormous pressure to innovate.

CONDETTA is familiar with the growing product categories and popular flavours of relevant brands. We also know which raw materials are suitable and how they react in the technical process of production. By combining high-quality raw materials with our extensive knowledge, we can develop both basic materials and complete solutions – in the highest quality and for all price segments.
Expertise
You select the raw materials base for a desired product. Whether you choose milk, cream, whey, soy or water, we will see to the success or your product idea. We take care of the taste, sweetening, colouring, flavouring, thickening agents, additives and everything else ̶ always customised to your preferences and needs.
Depending on the complexity of your request, we are in a position to employ state-of-the-art equipment and carry out production trials upon request.
Range of services
Benefit from our expertise in product development:
Our support extends from the preliminary idea all the way to the market-ready product and is part of a close and trustworthy cooperation
Implementation of innovative product concepts
Realisation of customised partial or complete solutions
Fast production of basic ingredients or finished samples
Food law information regarding declaration concerns
We conduct product tests under realistic conditions at our technical facilities
Upon request, we can supervise the first trials at your own production facilities
Adaptation of your end product to meet changing market requirements
Uses
You can rely on us as a competent partner for all your needs – regardless of whether you require raw materials for basic ingredients, or partial and complete solutions.
At our well-equipped dairy technical facilities, we are able to conduct a large number of development tests and provide a wide range of services in our UHT pilot plant. This means we are able to quickly develop innovative projects and create scalable results for your production.
Whether you require an innovative product concept or already have your own ideas for a finished product, we can support you in the technical processes, develop recipes that are customised to your technology and supervise your project from the beginning.